Workshop registration
Dear Colleagues
The response to our call for abstracts has been very positive.
The IPPW-2019 received 270 abstract submissions from over 250 presenting authors, which represents a large increase compared to previous IPPW events.
However, we are limited to 230 seats at the IPPW-2019 venue, so we have decided that at this point we are inviting registration only from presenting authors of accepted abstracts, and some others who have been specifically invited by the IPPW organising committee (invited speakers, sponsors, session convenors and similar categories). These individuals should receive, on 5th April, instructions on how to register for the conference, and a password to allow registration. Please follow the instructions given in that email to confirm your attendance by the 16th April.
If you have not received an email as above but wish to attend the conference, please e-mail the organisers at ippw2019-registration@maillist.ox.ac.uk with 1-2 sentences explaining your interest in the conference. If we are oversubscribed then we will need to prioritise applications; we will do this on the basis of active involvement in IPPW-related work. These applications will be placed in a standby queue and will be reviewed in the week commencing 15th April 2019. We aim to then release extra spaces to waitlisted participants.
Thank you for your understanding and patience.
Please note the early-bird registration deadline of 4th May 2019.
Local Organising Committee
Short Course Registration
Registration for the IPPW short course is now open. Places will be allocated on a first-come, first-served basis.
The registration page can be accessed using this link: https://www.oxforduniversitystores.co.uk/conferences-and-events/physics/events/international-planetary-probe-workshop-2019-ippw2019. Please note the early-bird registration deadline of 4th May 2019.
Registration for both Short Course and Workshop can be purchased at the same time; to do this, select 'Book Event' on the attendee category, follow the prompts to checkout, and then select the 'Continue Shopping' button to add the other option to your basket. A password is needed for workshop registration but not for short course registration.
Fee Information
The Short Course Fee includes:
your attendance at the Short Course on 6th and 7th July
refreshments at the breaks
The Workshop Registration Fee includes:
your attendance at the Workshop from 8th to 12th July
refreshments at the breaks. Lunches are not included in the registration fee.
attendance at the Welcome Cocktail Reception at the University Museum on 8th July which includes a range of savoury and sweet foods served in bowls, soft drinks and alcoholic beverages.
attendance at the Banquet in Keble College on 10th July. This will be a four-course dinner served with soft drinks and alcoholic beverages.
The Reception and Dinner are within 5 minutes walk of the IPPW-2019 Workshop venue.
Lecturers on the short course do not need to register for the short course.
Additional Hotel and College Accommodation information is provided on the IPPW-2019 Venue & Accommodation page.
Optional Excursions – Wednesday 10th July – afternoon
There will be no talks on Wednesday afternoon, leaving the afternoon free for excursions. All tours are scheduled to depart from IPPW venue at 2 pm on Wednesday (subject to change).
The first tour, to Blenheim palace, is available as an option to purchase with the conference registration fee. The other options will be available for booking separately (details to be announced via ippw2019.uk website).
Blenheim Palace – a private guided tour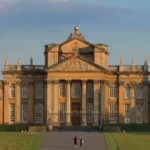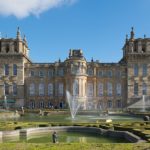 A designated World Heritage Site, Historic House and Gardens
Situated in 2000 acres of grounds it is the only non-royal, non-episcopal country house in England to hold the title of Palace
It is the seat of the Dukes of Marlborough, and the home of the 12th Duke of Marlborough today
The palace is notable as the birthplace and ancestral home of Sir Winston Churchill
Proposed itinerary:
2.00pm departure Oxford by executive coach
2.45pm arrival Blenheim Palace
Free time to walk through the grounds, and enjoy the views; there are also cafes and gift shops to visit
4.00pm Private group tour of the Palace, Park and Gardens
5.00pm Depart Blenheim Palace
5.45pm Arrive Oxford
ESA Harwell Space Cluster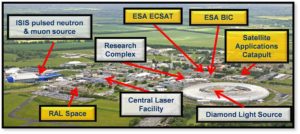 The tour will give visitors the opportunity to take a closer look at:
RAL Space R100 Testing and Integration Facility
Mars Yard
Satellite Applications Catapult
Diamond Light Source, a world-leading centre for synchrotron science**
** subject to availability. The Diamond Light Source is a very popular visitor destination.
Proposed itinerary:
2.00pm departure Oxford by taxi
2.45pm arrival at Harwell
3.00pm tour
5.00pm return to Oxford
Oxford University Hypersonic Wind Tunnel facilities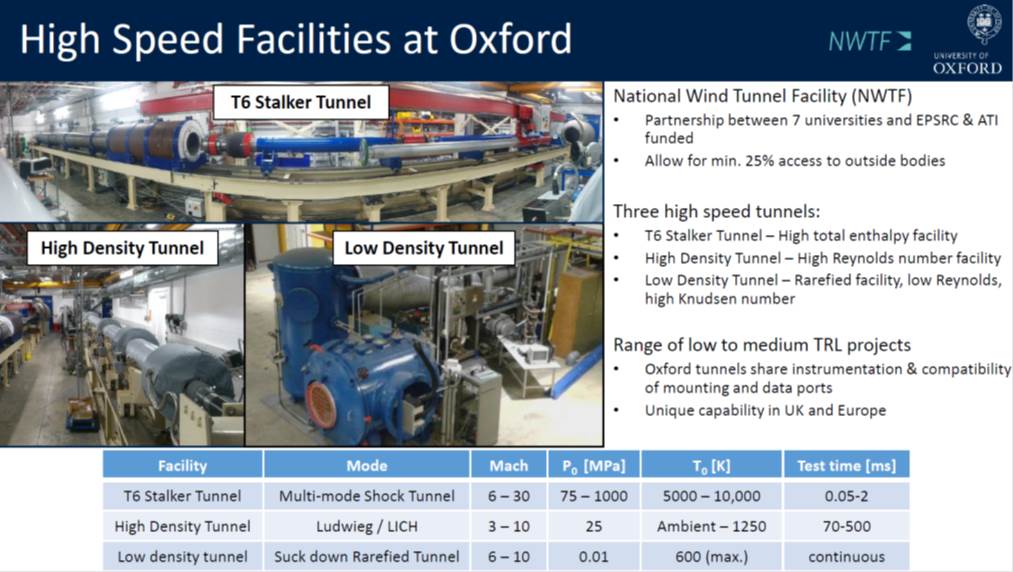 The tour guide will take visitors on a tour of the three test facilities that deliver speeds of Mach 3 to 30
Site: Oxford Engineering Science's Thermofluids institute
Proposed itinerary:
2.00pm depart Oxford by taxi
2.15pm arrival at Eng Sci labs
3:30 pm return to Oxford